The Band
Wire in the Wood is a prog-bluegrass locomotive pulling a lonesome psych-folk boxcar and a swingin' Hot-Club caboose. Billy Kirst's original compositions meld with an eclectic selection of traditional and modern covers to create the tracks for a dramatic, kinetic, cross-genre train. In the tradition of improvisational music, around every bend in the tracks a new musical landscape awaits.
Now composed of Billy Kirst (vocals, guitar), Jordan Adema (violin), Ryan Shea (bass, vocals), and Michael Spaly (mandolin, vocals), Wire in the Wood has haunted string-band venues large and small throughout Michigan over the last decade, including the Ark, Earthwork Harvest Gathering, Holler Fest, and the Founders Taproom. Their debut album All Fall Apart was released in 2017. They maintain an active schedule of performances.
For booking information, email booking@wireinthewood.com, or for PR requests email pr@wireinthewood.com.
All Fall Apart
A story of love: fragile, maybe broken, but always present, with all of its richness, elation, bitterness, and despair. From the title track's "seeing everyone as sisters and brothers" to the dream in The King and Queen of a couple weaving "the threads of our blessed souls" to the meditation on being that is Raindrops in a Cartoon Sunrise, All Fall Apart declares that everything we hold is ephemeral, and that which is eternal, is love.
Videos
"Tumbling Down", Holler Fest, August 26, 2017
"Dark Eyes" > "Rabbit In a Log", Corner Brewery, April 17, 2017
"High and Dry", OK Computer 20th Anniversary Tribute, June 10, 2017
"Anomalous Magnetic Moment" at Water Hill Music Fest, May 7, 2017
"Madison" on local radio show Tree Town Sound, August 7, 2016
Check out our YouTube channel.
Promotional Posters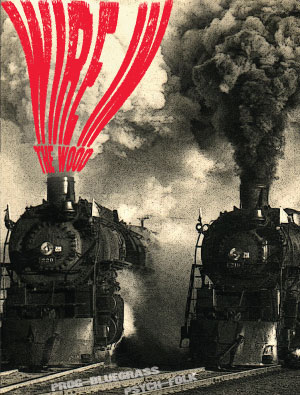 Posters are 11"x17", including 2.5" of blank space at bottom.
Photos
Press Coverage
"String Things: Wire in the Wood goes on the record with 'All Fall Apart'"
Pulp, June 1, 2017
"Wire in the Wood's 'All Fall Apart' Debut Album Moves Full Steam Ahead"
The Stratton Setlist, March 26, 2017
"Wire in the Wood at Wolverine State Brewing Co."
The Ann Arbor News, January 23, 2013
Stage Plot
Support the Band